This is a hat and shawl/poncho thingy I made. The hat pattern be found at: www.crochetgarden.com it is a free pattern that Etaria has on her pattern page. It is a fun and easy pattern to follow and is quite warm. I really love the look of the cable and post stitches. Now on to a mini rant. I downloaded the Crocheted Romantic Ruana shawl from the lionbrand site and although not using all the products they called for (it would have been to spendy) started on it. Well by the time I got really into the pattern and up to the neckline it finally hit me that the instructions weren't complete. I checked out the knitted version and it seemed complete so I just winged it for the neckline and finished it up as best as I could. Well being all of 4' 10" it was really short on me, not at all like the knitted version. So I adjusted and added to bottom edge to add some length and put a reverse single crochet along the edges. Now the thing that really gets me is if I had spent the money for the supplies they wanted for this pattern and found all these problems I would have been royally ticked. I kind of figured the supplies themselves would have been about $80.00 dollars. I spent 15 on the suede and used some sparkly boucle type yarn I had in my stash. For what it is, its okey but I was really looking for the drapey effect they showed in the knitted version. I realize that not using the moonlight mohair might have helped the drape but still, if your gonna post a pattern you would think the thing has been tested and proofread prior to publishing it as a complete item. I also realize that mistakes happen but if you check out the knitted version it seems far more instructional and complete than the crocheted version.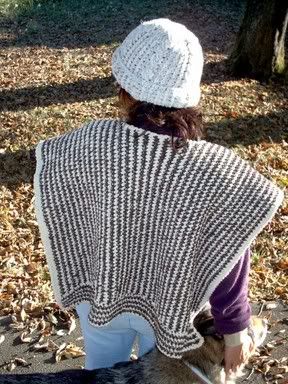 Okey dokey then I am done so here is a picture of the front of the hat and Ruana shawl. At least the shawl is warm and that will come in handy this fall.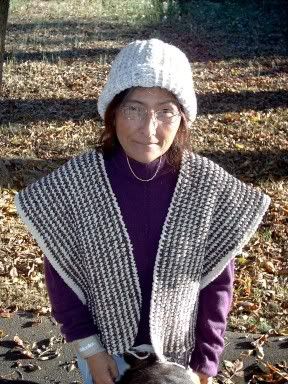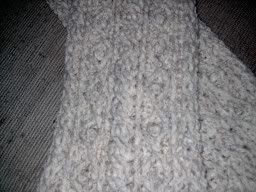 Here is a close up of a scarf I tested for Etaria. The pattern can be found here at: www.crochetgarden.com . It is an advanced pattern but will all kinds of trial and error it comes thru wonderfully. The corrections have all been posted and she is always available for questions so you won't be disappointed if you purchase her patterns.
Okey this is a long post for me, just thought I'd voice my frustration and maybe help someone else out if by chance they decided they wanted to try out the Rauna. I did send an email to Lionbrand but have not heard back as of yet just hope I was clear enough for them to understand what the problems are.