I have been away from my blog and crochetville for a little while now due to my son coming up from 29 Palms for a visit. For those who have read my blog they know that my son has just gotten back from his 3rd tour over in Irag. So he was home for a much deserved break from the Military. It was actually a quiet time here at our house, which from what he says is what he really needed. Brittany played her clarinet for Floyd while he worked on organizing his pictures. Floyd has about 3 more months of the military and then will be back to civilian life so he is looking into his options for after he is out. He is still the wonderful person he has always been and I for one cannot really say how much his service to our country means to me but he knows and appreciates it.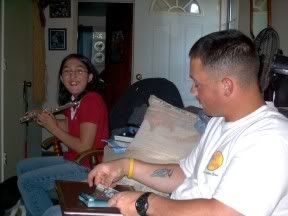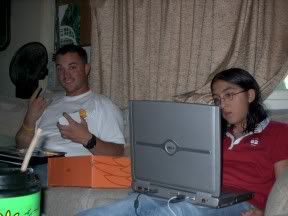 Pic of Brittany on my laptop and Floyd still working on his picture album.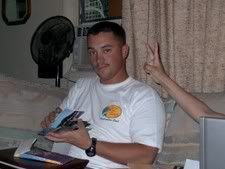 Here my big boy with a smirk on his face, he thought he'd be funny/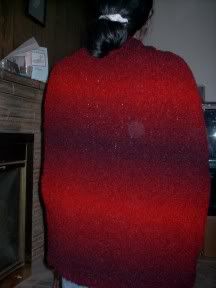 This is a picture of Brittany with the cape I am working on for her. It is knitted using Joann's rainbow boucle. My local Joann's finally got in the new colors and so I had to get the red, dark blue and green yarn. When Brittany saw the red she said wow now you can make my cape with that one.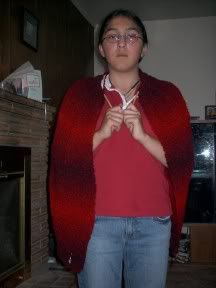 Here is the front view of the cape with Brittany holding onto the knitting needles. She wants it to go down to her calves so I still have a lot of work ahead of me. Now she wants a hood on it. Darn kid add more work for me. She is really liking the way the blending looks on this cape.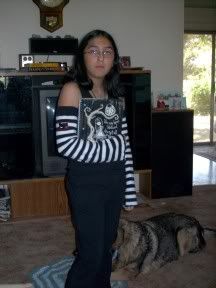 Lastly but not least is the outfit that Britt wants to wear for the first day of school. She doesn't start until the 8th of September so she may change her mind a few times before then.