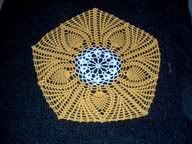 Here is a doily I made this weekend. The pattern can be found at:
http://pandacrochet.8m.com/beauties
it is the Septembers Beauty for 2003. I really love finding these great patterns that can showcase my abilities, just wish I was creative enough to make up patterns myself. But knowing myself I will appreciate those that can and use what I have which is the ability to follow directions and still have an item that will give me pleasure for years to come.