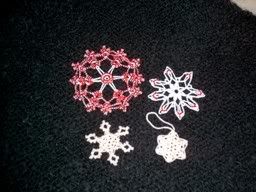 Here are some snowflakes I crocheted yesterday for the snowflake crochet a long on Crochetville. I decided to do these with beads. They take a bit more time because I had to string the beads first and then crochet them as I went along. I think they turned out pretty good. Made a few more tonight but didn't get pictures taken yet so will post them when I get the pics taken.
Well not to much has been happening lately but I did get good news in that my son should be stateside on Friday after serving his third tour in Irag. I am sure that when he gets off the plane and then takes the bus back to his base he will be so glad and relieved he made it thru another tour. He will be leaving the service in about 4 months so after a total of 8 years serving his country he is ready to be a civilian again. I feel blessed that God has been with him thru out everything.
Okey I guess thats about it for now.