Well I have been testing a few patterns lately so here are some of the results. This is a new cap that Etaria at www.crochetgarden.com is testing for sale. This will be part of her Rugged Mountain Series that she has created four scarves and now matching caps. Unforunately I used a dark brown wool ease of so the pattern doesn't show up well in the pictures.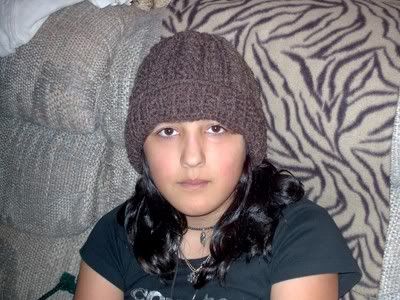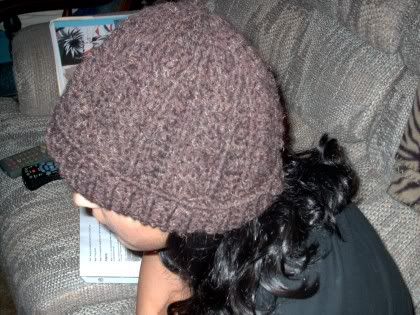 Here is a side view of the same cap but like I said you can't really make out the stitch detail like I would have liked.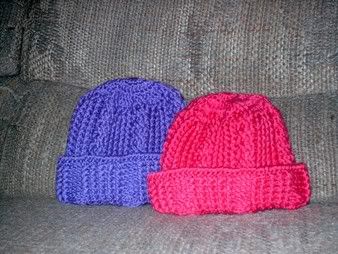 Here are two hats I made for my granddaughters to match the scarves I posted about previously. I got the pattern off of Etarias site that again I posted about above. This is a free pattern that she offers on her site.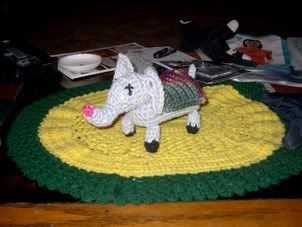 This is Oli the elephant. Now these are some soap critters that I tested for Kathy (Katchkan) over at Crochetville. She is so creative and I am so glad to be a tester for her. I sure wish I could pick up my hook and just create something out of yarn or thread from something that is in my head. But that is not my lot in life so I am so happy to be a tester for those creative designers out there who feel I am up to the task.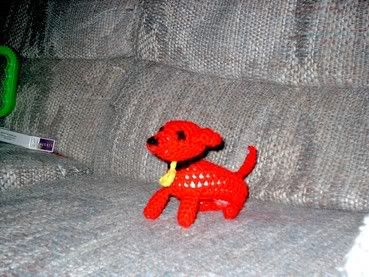 I am calling this one Clifford the big red dog after one of my daughters favorite books when she was little. Actually I think she still is little cause when she saw him she yelled Clifford and promptly took him to her room. Makes my day she actually wanted something I made, being a teen she is very particular about what she will wear that mom makes.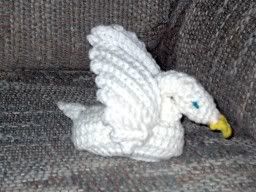 Percy the swan, I think I will be looking for childrens books to match the swan and Clifford to send to my grandkids for Christmas.