I haven't posted much lately because I have been busy as a tester for Kathy(Katchkan) on her Autumn Shawl. I couldn't find an Autumn color that I liked so decided to do it in a light blue. I will be using some dark blue beads for the trim, but I will post pictures when I have it all completed.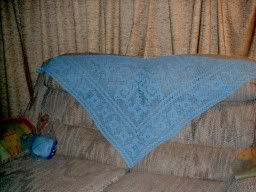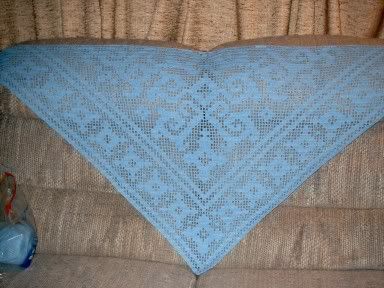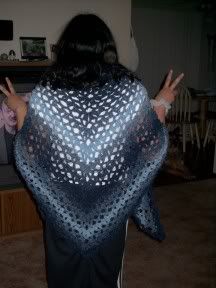 Here is Brittany modeling Kathy's simple shawl, I was working on the
Autumn shawl when I lost my hook in the couch unforunately the couch wouldn't give up the hook so I had to put the Autumn shawl on hold until I could buy a new hook. So in the meantime I had to keep my hands busy so I worked on this. It is a free pattern that you can get at Crochetville that Kathy has posted.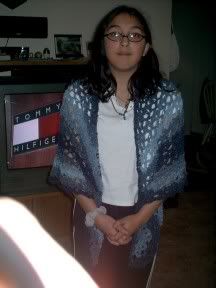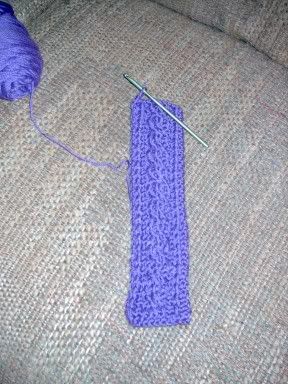 Here is a scarf that I am working on for my Granddaughter. It is an adaptation of a pattern that I tested for Etaria at www.crochetgarden.com. The scarves are all beautiful works and this is just a small piece of it. My granddaughter is only six so the full size would have been to wide for her.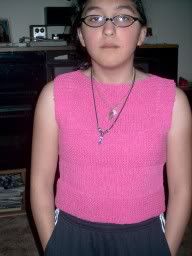 These next two pics are of a sleeveless shirt I knitted in October. It is a simple pattern but takes me longer to complete because I don't knit as fast as I crochet. Brittany isn't happy about being my model as she really hates pink but she does her mothers bidding because she loves me. Thats my story and I'm sticking to it.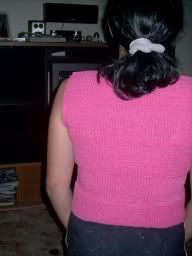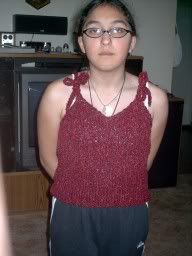 Another knit top that I completed in October. I am slowly working my way up from sleeveless tops to hopefully doing one in sleeves. But until then I will keep practising with sleeveless outfits. The shirt is a little to big for Britt but she is a trooper and let me take a picture anyways.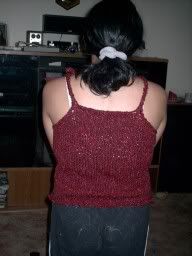 Okey I think I have made up for not posting for awhile. Once I get thru with my Autumn shawl I will have to start on some quicker projects for Christmas so hopefully it won't take me as long to post finished projects.